With the breakneck pace of digital marketing today, media planning is no longer just for corporate behemoths with bottomless pockets and limitless resources.
Nonprofit organizations today recognize just how effective media strategies can be in bringing attention to their cause and creating a lasting impact on those they serve. 
However, media planning for nonprofits is not without its challenges. Here are seven strategies that are indispensable when it comes to media planning for your 501(c) and how to do it right.
1. Take the Time to Understand Your media plan
No media buying or communications strategy will work if you don't have a solid foundation under it. For nonprofits, it's crucial that you zero in on precisely what it is you want to achieve.
Whether it's raising awareness about your cause, soliciting donations, recruiting volunteers, or working to influence policy change, having clear and concrete objectives in mind will help you drive the outcomes you want. 
2. Know Your Target Audience
It should go without saying that your media strategies should be tailored to cater to your target audience. If you don't know much about their media consumption habits, ask them!
Conduct surveys, do focus groups and interviews to learn more about the types of media they consume, what their preferences are, and what motivates them to act. This way, you can choose the right platform for your message while optimizing your campaigns to have maximum impact. 
Client Campaign Spotlight: Breast Cancer Awareness with PINK Breast Center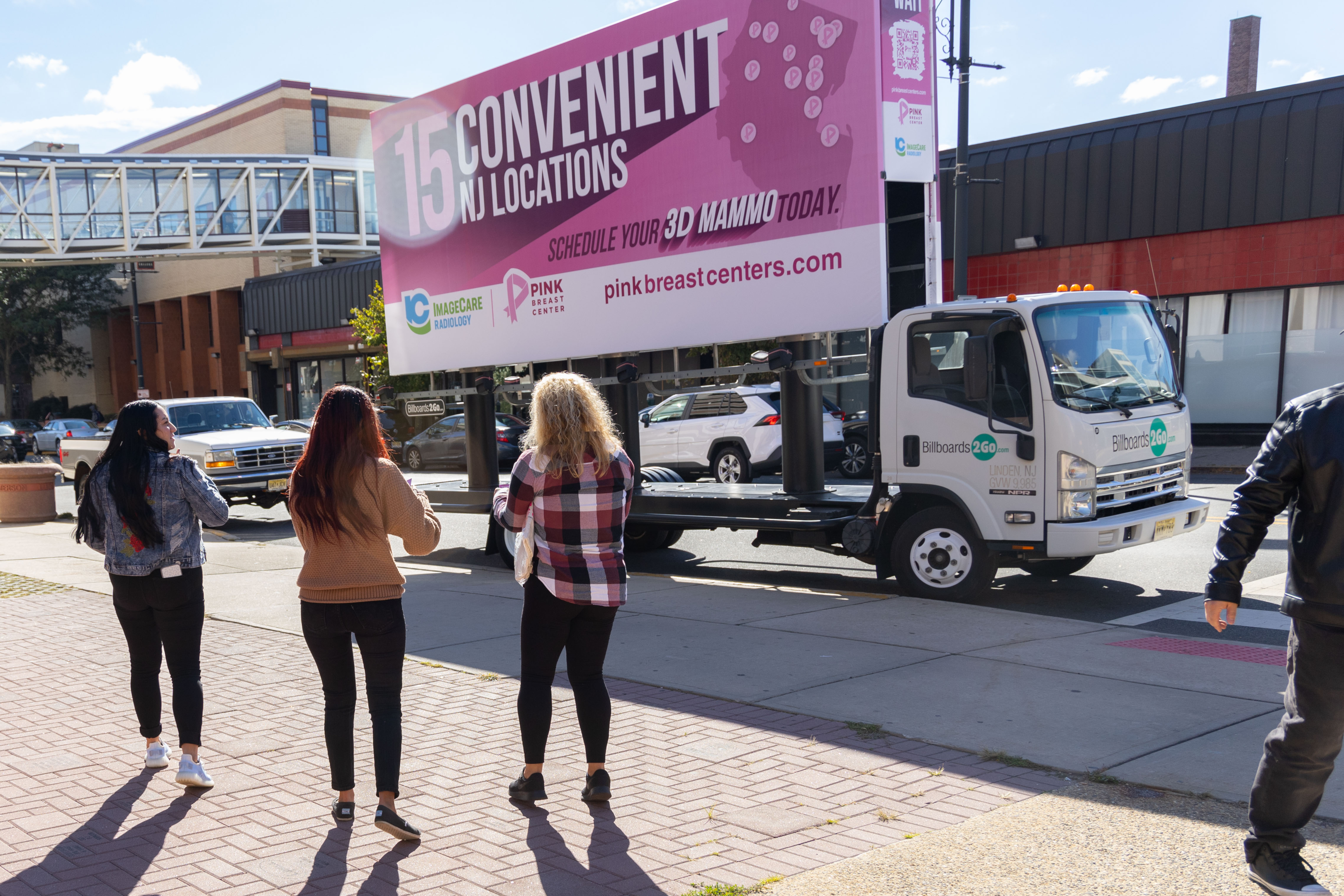 As part of their advertising initiatives during Breast Cancer Awareness Month, PINK Breast Center, a division of ImageCare Radiology, focused on underserved communities in New Jersey where the incidence of breast cancer was higher. 
The goal of the ad campaign was to not only inform women in these underserved communities about the necessity and urgency of getting a mammogram but also to let them know that for New Jersey residents aged 40 and over, the service is free.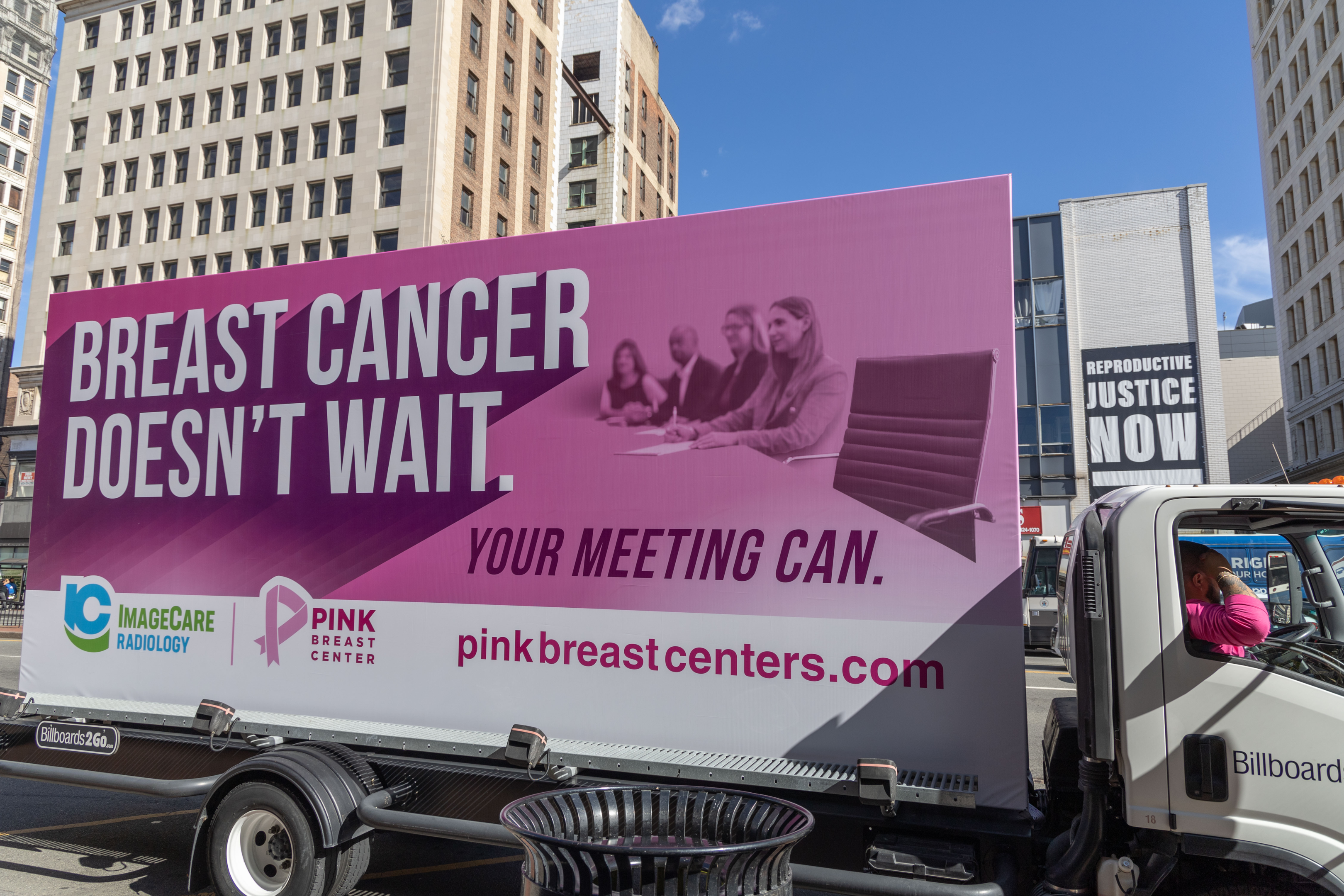 When the marketing team over at Jungle Communications learned of the significant disparity between incidents of breast cancer (which were highest among white women) and the highest mortality rate being women of color, the strategy meant taking the message where it simply couldn't be missed.
That's when #EverythingElseCanWait was born.
Using a combination of street teams, rolling billboards, and other media the strategy was to spread the word throughout underserved communities including East Orange, Newark, Paterson, Clifton, Jersey City, and Edison.
Dressed in PINK Breast Center's #EverythingElseCanWait t-shirts, all of the ladies on the street team were those who had personally been impacted by breast cancer, making their message even more relevant.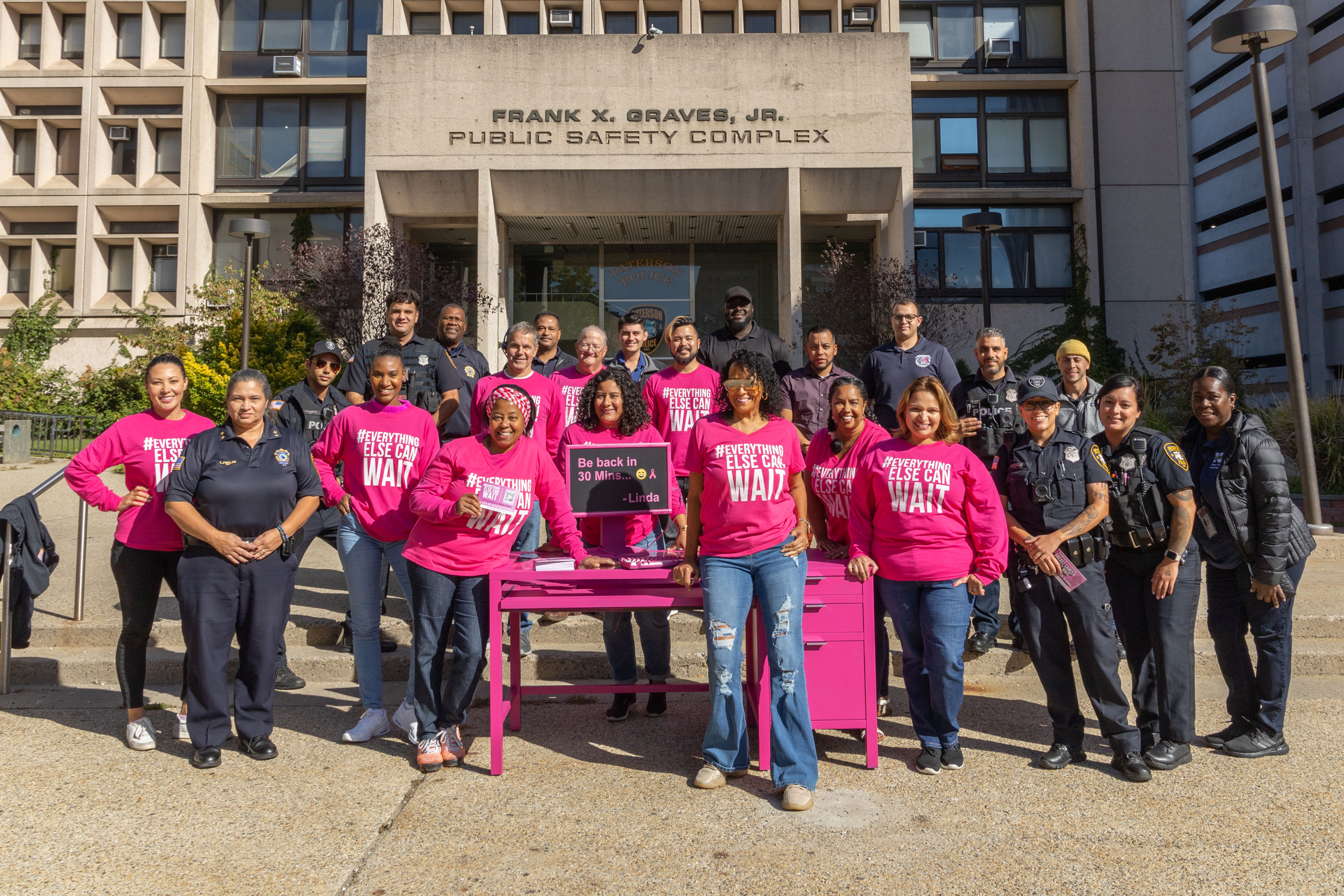 Together with rolling billboards leading the brigade, the women spread the word right on the street, where ladies from these underserved communities would likely be going about their daily errands or meeting up with friends. In short, they had to know that "Breast cancer doesn't wait… Everything else can." 
3. Diversify Your Media Mix
This is a common pitfall for many nonprofit organizations just getting started in media planning. They focus too narrowly on a single type of media, such as just digital media (email, social media, paid online advertising) or just traditional media (radio and television) to the exclusion of all else.
By diversifying your media mix, you can reach different segments of your target audience in a way that will make them more receptive to your message and open to hearing what you have to say. 
4. Become a Persuasive Storyteller
We've been telling stories since the dawn of humanity and as a result, we're hard-wired to listen. Share success stories from those who have benefitted from your work, including testimonials from volunteers. Make a compelling case for why your work matters and how it touches lives.
Share your message across video, podcasts, articles – anywhere your target recipient is likely to be, and ensure that the story you tell is not only engaging, but authentic and relatable. 
Client Campaign Spotlight: Times Square Church – Prayer in the Square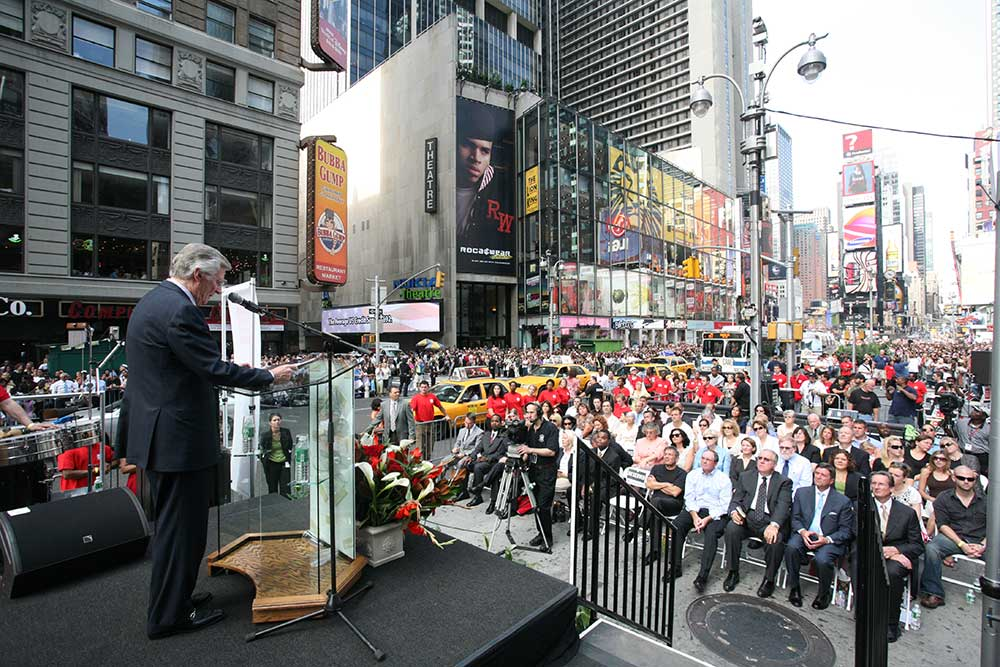 Times Square Church is an interdenominational, multinational congregation, located in the heart of Times Square in New York City, founded by the Rev. David Wilkerson. Times Square Church's congregation represents over 100 different nationalities that gather to worship together each week in New York City and online.
Each year the extent of our marketing and advertising efforts grew starting with mainly fliers (in English, Spanish, and Korean), posters, stage banners, shirts, billboards, subway ads, and an extensive radio advertising campaign.
On top of this, the following years included an email campaign, promotional materials like newsletter inserts, bookmarks, postcards, newspaper ads, bus ads, TV appearances, social media advertising, and considerable PR.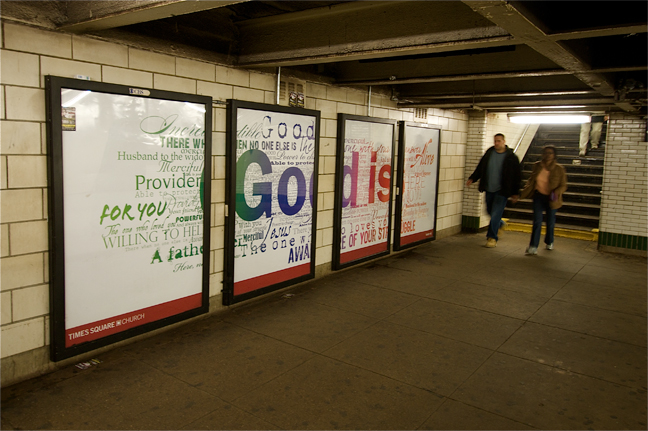 According to the NYPD, this phenomenon grew from 10,000 in attendance to 20,000 to 50,000 each consecutive year.
In total, 200 churches representing multiple denominations came together to participate in this event including churches in 20 countries around the world who joined via live broadcast.
Pastor Conlon and the 180-voice gospel choir led this event which was attended by Mayor Michael Bloomberg, as he declared that Sunday as Prayer in the Square Day.
5. Partner with Other nonprofits
No nonprofit organization is an island, which is why it's a good idea to partner with like-minded organizations, influencers, and corporations who share your organization's mission, vision, and values.
Together, joint campaigns can have an even more significant impact than the same campaigns done individually. It's a win-win for everyone involved, and it can help you reach new audiences in the process. 
6. Prioritize Your finances  
As a nonprofit, you're often working with limited resources. That means it's more important than ever to target your spending where it will make the biggest impact.
For this reason, it's a good idea to work with a media planning agency that can help you target your digital and traditional media ads in a way that's cost-effective while still hitting your goals. 
For instance, one media buying example could have you focusing on a certain demographic or organizing an event and a large public relations campaign around it.
Review your spending regularly and course-correct if needed so that you can continue to get a solid return on your investment. 
Client Campaign Spotlight: Alliance for the Peace of Jerusalem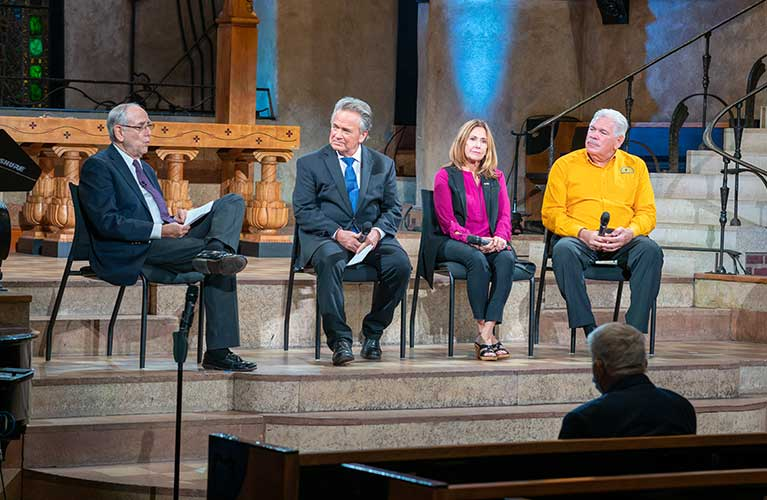 The Alliance for the Peace of Jerusalem (APJ) is an organization of key faith leaders, scholars, authors, and pastors, dedicated to facilitating a better public understanding of the complexities of the Middle East.
Together with Chosen People Ministries (CPM), a Messianic Jewish nonprofit organization headquartered in New York City, decided to honor the fallen and their families of those who perished on 9/11 twenty years ago.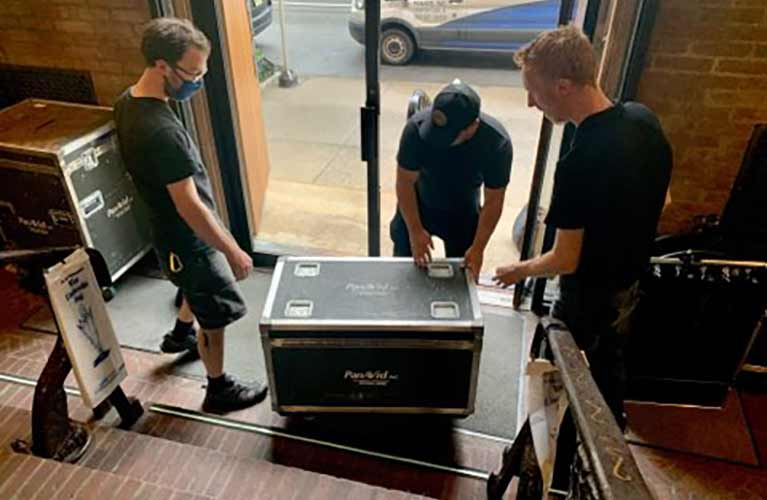 On the 20th anniversary of the tragedy, APJ and CPM had a vision of gathering thousands of people (in-person and virtually) to remember those who have passed, worship a God of hope and recognize the powerful and binding connections between New York City and Jerusalem.
Jungle Communications started by creating a targeted Google Ad and Youtube Ad campaign using promotional videos created by the Alliance For The Peace of Jerusalem.
At the same time, we coordinated radio interviews with Dr. Mitch Glaser of Chosen People Ministries to increase the visibility of the event. Throughout the planning stages, we also offered marketing guidance and consulting to the other teams involved to ensure a cohesive campaign.
Most importantly, Jungle Communications worked hard to bring together a panel of clergy/frontline workers who were at ground zero in the hours, weeks, and months following the attacks.
7. Track, Monitor, and Adjust your campaign
When working with a media planning agency, you'll be able to see the direct impact and effectiveness of your campaigns.
The agency you choose should be well-versed in analytics, engagement rates, donation conversions, audience growth, and the many other factors that contribute to a successful campaign.
It's a good idea to review these metrics alongside the agency periodically to see what's working and what isn't so that you can continually learn and adjust as you work on creating a powerful message that makes a difference. 
It's important to remember that whether this is your first time in media planning or you've been at it awhile, the key indicator of your success will be how much of a difference was made as a result of the campaign.
Whether your goal is to raise awareness, spark a conversation, or help generate meaningful donations, having the right media plan in mind will help you craft campaigns where every voice counts. 
If you're ready to take the next step and move from presence to prominence, contact the media planning experts at Jungle Communications today.
See why countless organizations rely on our experts to help them amplify their voice in print, broadcast, and digital mediums with custom campaigns that get results.
Reach out to us today to learn more.